I am a technician and i am passionate about new technologies and their industrial applications.
I work in production, but this immersion in industrial production doesn't allow me and people in general to show creations made by hand such as crafts produced in small series.
Therefore, I try to find that feeling by combining my knowledge, my ability and my passion, I'm starting motivated!
Passioned by knives, old and new, I have visited flea markets since 2007 in order to enrich my small collection.
2009: First cutlery show in Gembloux, I admire blacksmith's demonstrations.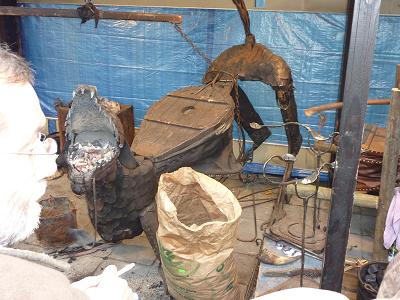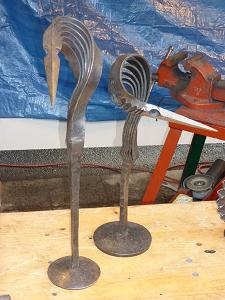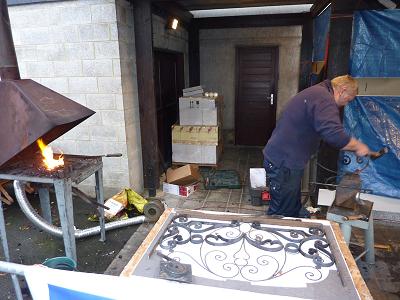 2009 : New demonstration of blacksmith's démonstrations at the Arts college of Saint-Luc Tournai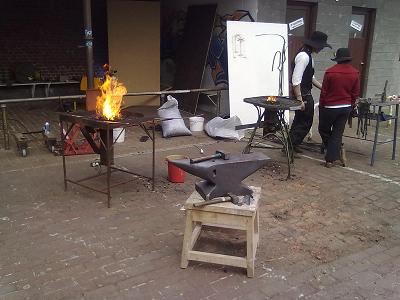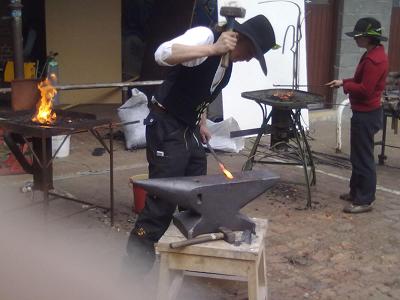 Wow !, very impressive ! I definitely want to learn how to forge!!!
may 2010 : After a few weeks of searching, I finally found a place to learn.
Why look for something far away when it can also be done closeby : the forge of ostiches !
Short visit during the "Hammer In" day, I'm convinced now, I am going!.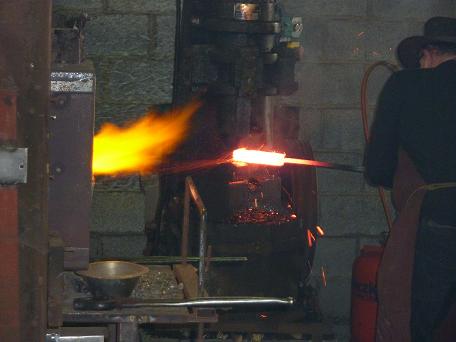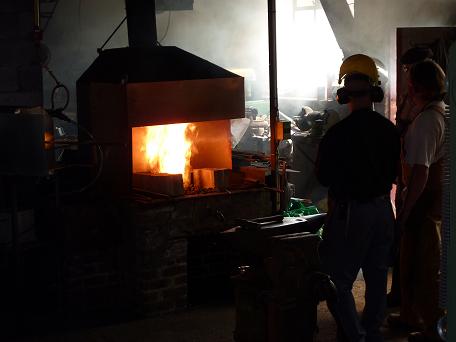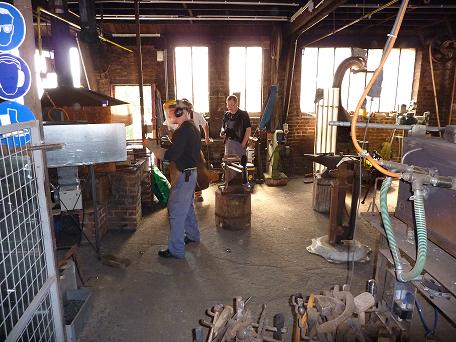 This is the beginning of the course taking place Saturday morning. I able to learn and benefit from the experience of the skilled forgers.
I learned how to light a forge, to forge iron and also how to forge the blade of steel knives !.
30 March 2011 : training in the Forge of Ostiches: Dirk Bourguignon taught me the basics making of a Damascus steel.
I finished my day with a bar composed of 33 layers of steel and 15N20 02: a lot of work and it is not finished yet, many hours of cuts / cleaning / welding / heating and stretching with the power belt hammer in perspective!
Preview of the result :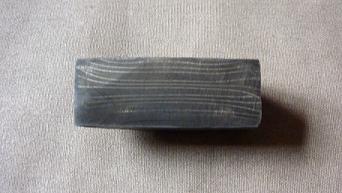 June 2012 : My first bar of Damascus steel as been consumed, I return to work to make a new one.
This time, I wanted to make an billet of + / - 400 layers, to additional blades.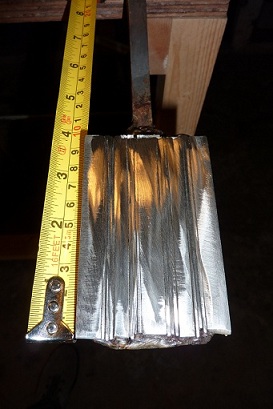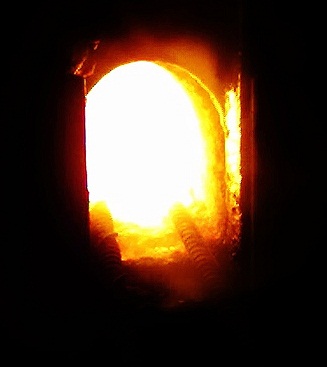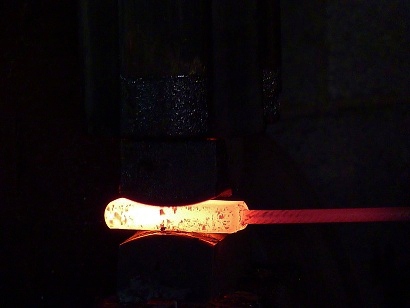 My steel has been welded and now what remains is to perfom bending and streching successively.
August 2012 : Blacksmith exhibition by Joe Keeslar at the forge of Ostiches.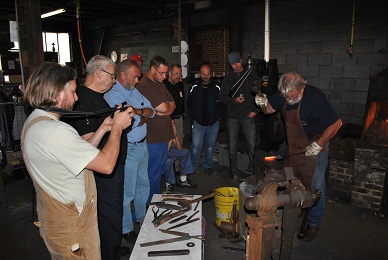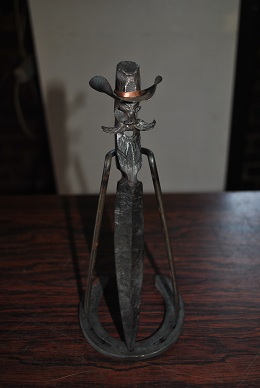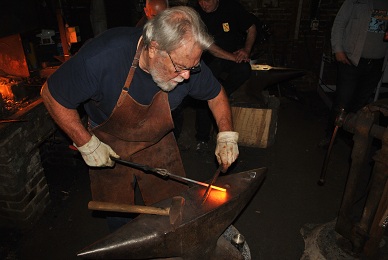 Beautiful demonstration and an amazing experience !
September 2014 : Making of a little feather damascus billet with a +/- 80 layers 15N20/02 simple damascus billet.
Cleaning, tracing and cutting of basis billet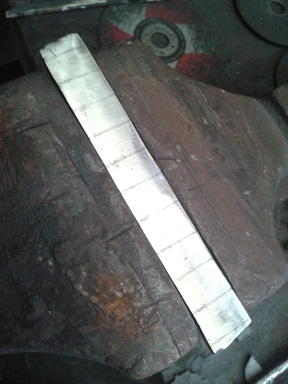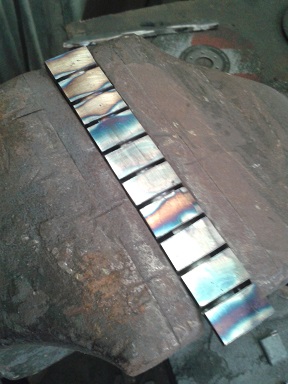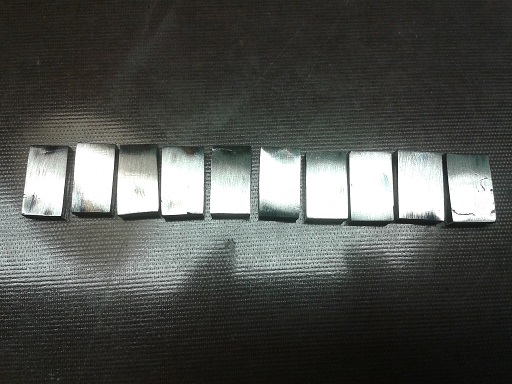 Stacking and consolidation of all 10 pieces to facilitate manipulations.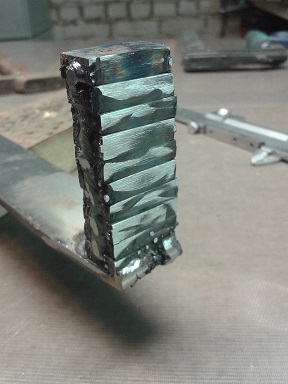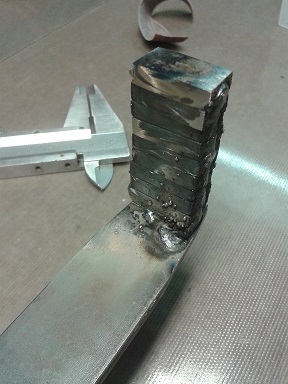 Welding of all with charcoal forge and hammer.
Slice all the 4/5 of the height and forge welding to close the opening.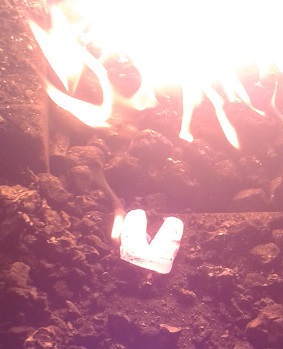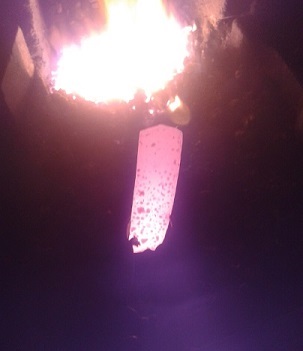 Result after stretching, cleaning and revelation of the new billet:


Octobre 2014 : 2 week technical training of of the American Bladesmith Society (ABS).
The course was facilitated by thee mastersmith Thimothy Potier, Dirk Bourguignon and Frédéric Taquet to the forge of Ostiches, accepted as the first ABS school in Europe.
At the end of this course, obtaining certification required a successful test of extreme quality blades manufactured.
The test on a forged blade edge of 24.5 cm by 4.5 cm in width and 7 mm thicker decomposed into three phases:
Test 1 : Cut into 1 move a suspended 3cm sisal rope.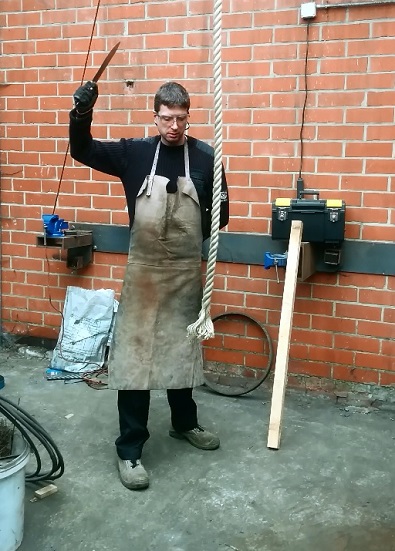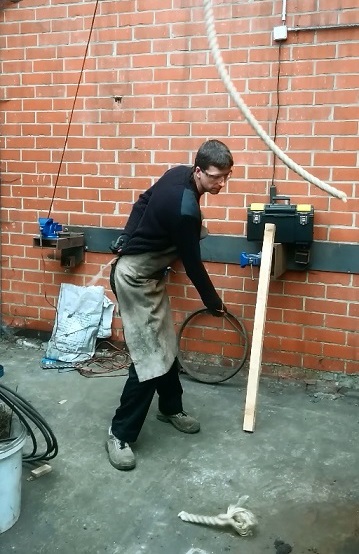 Test 2 : Cut a wooden lintel hard dimensions 5 cm X 10 cm by successive impacts (as an ax).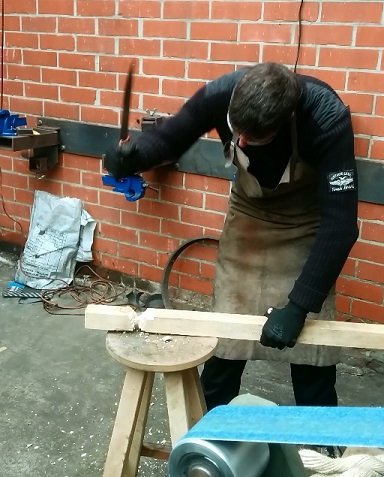 After these first two tests, the edge must remain intact and able to shave, shaving test of the forearm to support.
Test 3 : Place the blade in a vice and bent using a lever until it is horizontal, the blade can not break even partially.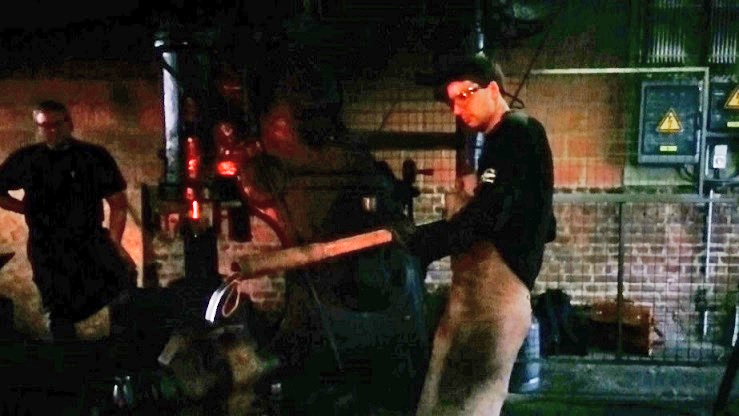 Below the blade that I forged and thermally prepared (quenching and tempering) and aesthetically (polishing and assembly of a Simple handle).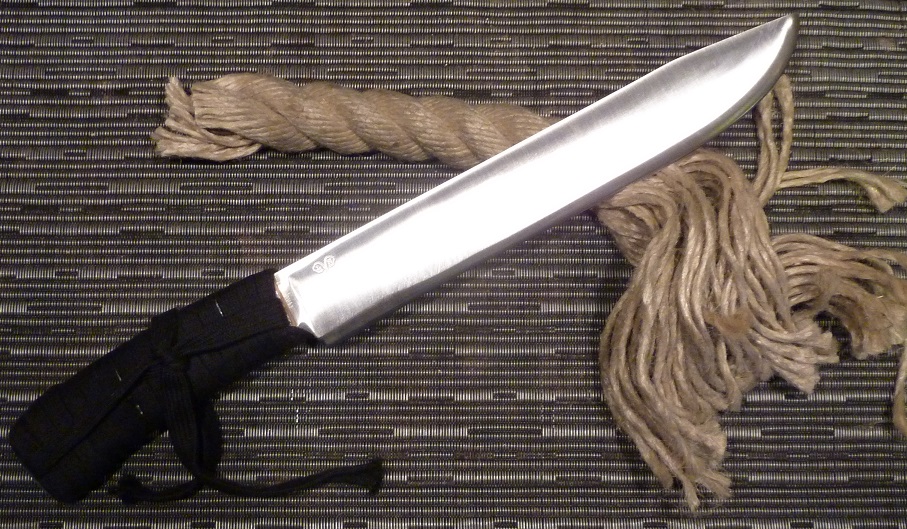 Quality test passed, I'm certified!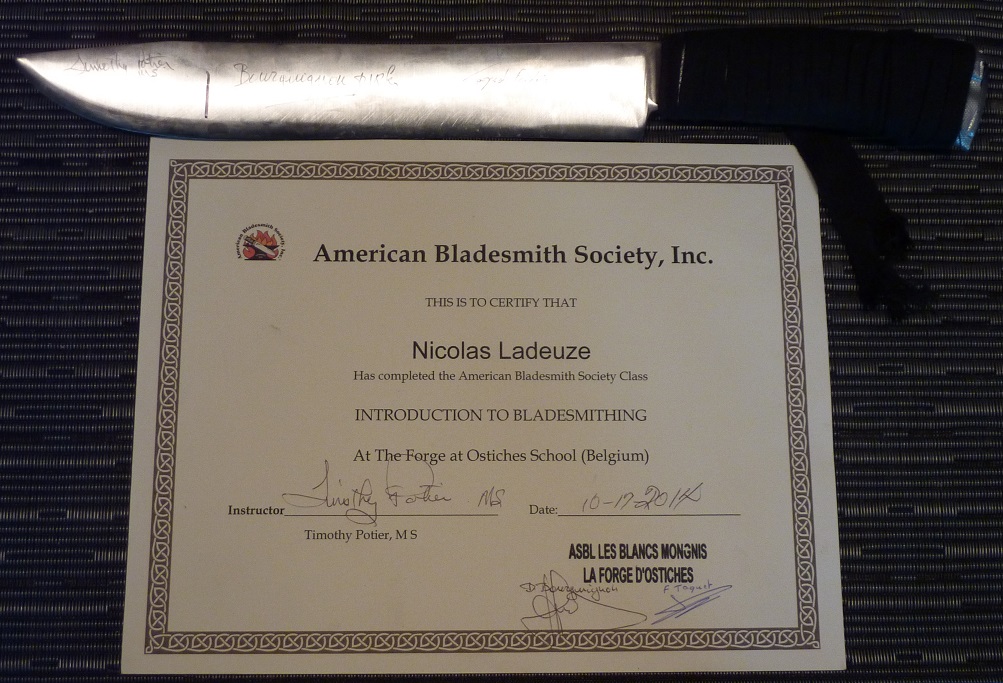 In addition to the realization of three test blades, I realized other smaller blades I have yet to climb: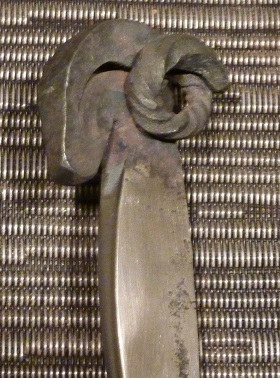 Novembre 2015
That was my first participation on the exhibition organised by Belgium Knife Society.